Get It

Book
HL #50449659
ISBN 9780876391358

Tell a Friend
Email someone who you think might like this title.
Project Management for Musicians: Recordings, Concerts, Tours, Studios and More
by Jonathan Feist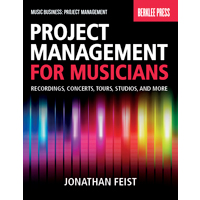 WINNER: 2015 International Book Awards (Performing Arts)
Get organized, and take charge of your music projects! This book will help you harness your creativity into clear visions and effective work plans. Whether you are producing a recording, going on tour, developing a studio, launching a business, running a marketing campaign, creating a music curriculum, or any other project in the music industry, these road-tested strategies will help you to succeed. You will learn to:
clarify your visions, and develop systems to make them become real
estimate and manage your projects' required budgets, resources, and schedules
manage teams effectively, delegating tasks, harnessing the creativity of team members, and monitoring progress towards achieving your goals
develop and track contracts, copyright forms, ISRC codes, insurance policies, production schedules, stage layout plans, and other music industry tools
organize your project office and workflow for maximum efficiency
analyze and mitigate risk, and solve problems
develop mechanisms for building institutional memory
Jonathan Feist is editor in chief of Berklee Press, the book/video-publishing activity of Berklee College of Music, where he has been bringing music education products to a worldwide market since 1998. He is the author/instructor of two online courses through Berkleemusic, Berklee's continuing education division: the companion to this book "Project Management for Musicians" and "Music Notation Using Finale."
"This excellent and accessible compilation of strategies combines modern technology and project management practices with a deep understanding of the music industry. Whether you are more enthused by the creative dimensions of your work or the logistical ones, 'Project Management for Musicians' will help you become more successful."
—Brent Frei, Executive Chairman and Co-Founder of Smartsheet
"Project management is undoubtedly the backbone of success. The diversity of tools in this book will not only help you to plan ahead; they will truly trace the path and change the way you see things in order to complete your goals."
—Ariel Rivas, Grammy-Award Winning Producer, World Tour Manager, and Booking Agent (Rubén Blades, Don Omar, Danny Rivera)
"If you've ever thought that the music is the easy part and it's everything else that's hard, then this is the book for you. 'Project Management for Musicians' will give you common sense tools to organize your thinking, planning, and management of all those other things besides the music that are so critical to your success in the music business."
—Alan Sierichs, Former Commander/Conductor of the Air Force Band, Washington, DC
"Jonathan Feist is one of the most effective project managers I've had the opportunity to work with. The depth and breath of tools in his new book have the power to transform any musician's project management skills, which will lead directly to completing visions, rather than just dreaming about them."
—Stephen Webber, Berklee Professor, Author, and Composer
Also by Jonathan Feist