Study Online

Rock Bass
Gain the foundation, technique, and vocabulary necessary to construct and improvise bass lines in a variety of rock and blues-based music styles.

Bass Performance 101
Study the music of famous electric and acoustic bass players, and learn to create and perform your own unique bass lines in a variety of different styles.
Tell a Friend
Email someone who you think might like this title.
Essential Rock Grooves for Bass
by Danny Morris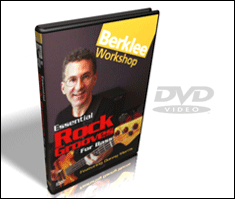 Learn how to lock into an airtight groove with Berklee professor and versatile bassman Danny Morris. In this Berklee Workshop, Morris gives you techniques to help you anchor your band with solid foundation of bass lines, chord progressions and rhythmic and harmonic variations. Working with and without a drum machine, Morris breaks down the secrets of syncopation, rhythmic displacement, left-hand muting, and more. His practical lessons will help you build your bass vocabulary, play with more variety and character, and keep your grooves in the pocket.
About Danny Morris
Danny Morris
Danny Morris is a versatile bassist, author and Berklee professor who has performed with rock pioneer Bo Diddley, blues masters Buddy Guy and James Cotton, and New England's premier Calypso band, Calypso Hurricanes. He also performed on many Caribbean tours as a member of the James Montgomery Band. At Berklee, he has helped thousands of students develop their bass skills; his students have gone on to play with Duran Duran, Dave Mason, and many other well known acts. Morris is also the author of Instant Bass, which demonstrates his ingeniously simple methods for teaching students of all skill levels play the instrument he loves.
Berklee Press DVDs are coded for all regions
Also by Danny Morris