Musician's Yoga: A Guide to Practice, Performance, and Inspiration
by Mia Olson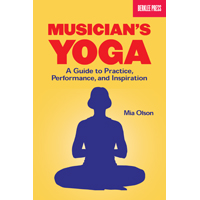 Become a better musician through yoga. By integrating yoga into your practice routines, you will develop a more focused and concentrated mind for performance. You will be able to increase awareness of how you use your body to allow for proper posture and ease of movement while performing, helping you to avoid overuse injuries and play with greater expression.
These concepts, exercises, and practice routines present yoga from the musicians' perspective, focusing on the direct relationships between using yoga and creating music.
You will learn to:
Practice meditation approaches, breathing techniques, and yoga postures that will help improve musicianship
Play using healthy posture and technique
Get more out of your practice through improved focus
Use your breath to improve your phrasing and also to ease performance anxiety
Play with deeper expression through inspiration
Mia Olson is a professor in the woodwind department at Berklee College of Music where she teaches flute, piano, and Yoga for Musicians, which have been an inspiration for this book. She also offers her Yoga for Musicians workshops throughout the world. She is an acclaimed flutist and a Professional-Level Kripalu Yoga Teacher.
"This book is enlightening, energizing, refreshing, and beautifully written. Yoga and music are a perfect match, and this work is a must read that just might change your life."
—Eddie Gomez, Legendary Jazz Bass Virtuoso, Composer, Educator, Producer
"I believe this book is a great addition to every musician's library. In today's world, we often focus too much on the results and little in the process. This book can help us find natural ways to improve our daily practicing experiences in order to reduce performance anxieties and technical related injuries. I hope all musicians can appreciate Mia's effort to unite the world of yoga and music in order to reach our highest musical being."
— Danilo Perez, Grammy-Award Winning Pianist, Philanthropist, Educator, Unicef Goodwill Ambassador
"Players both amateur and professional will dissipate anxiety and focus performance by adopting the relaxing practices flutist Mia Olson puts forth with joyous clarity in Musicians' Yoga. Hear ye, road warriors! Improve your balance and posture, increase patience and awareness, channel energies, and concentration! Become yoga warriors!"
—Fred Bouchard, Journalist (Downbeat, All About Jazz)
"Finally, a book on the applications of Yoga that is detailed, simple and to the point. Mia Olson concisely and clearly simplifies the vast philosophies of Yoga, making numerous practices accessible to performing musicians as well as anyone wanting to improve the quality of their life. Her thorough and practical advice on how to apply the specifics of posture, breath, meditation and visualization, is a must for anyone wishing to tap into their higher potential."
—Guruatma S. Khalsa, M.Ed., Stress Management Consultant, Life Coach, and Yoga teacher; Director, Franklin Yoga and Wellness
"Musician's Yoga is a comprehensive method for understanding the mind-body connection implicit in music. Olson connects to us in a clear and concise manner, incorporating exercises for all parts of the body. She gives us tools for managing performance anxiety, as well as tools for general and specific tension caused by performing. Her concept of "yoga off the mat" will help anyone interested in the benefits of yoga. Easy to understand, and conceptually inspiring, this book should be in every music library."
—Barbara LaFitte, Oboe Professor, Berklee College of Music; Principal Oboist, Boston Ballet Orchestra
"Mia's yoga classes are a popular part of the performance curriculum at Berklee. She captures the essence of these classes in this book. I highly recommend it as a must read for every performing musician. The exercises will help you develop a more concentrated mind for performance and daily practice."
—Matt Marvuglio, Dean of the Professional Performance Division at Berklee College of Music